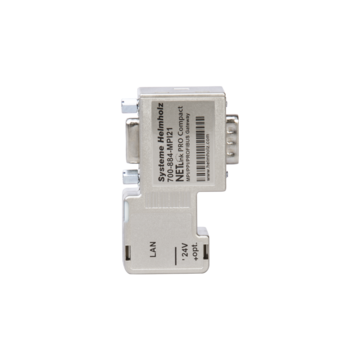 NETLink® PRO Compact, PROFIBUS Ethernet Gateway for Programming S7 PLCs - 700-884-MPI21
---
NETLink® PRO Compact (incl. 3 m Ethernet cable, Quick Start Guide, software and manual CD) 
The NETLink® PRO Compact offers flexibility, compact design and even more application benefits. Power is supplied via the CPU of the automation system or optionally by an external 24 V DC power supply. The network interface uses standard Cat-5 cable, thus cable lengths up to 100 meters are possible without any further components.
Generally, a connection to every MPI/PROFIBUS interface of the bus system is possible. A direct connection to the interfaces of active or passive bus devices is also possible. The connector casing has an integrated PG socket, which permits connection of further devices. NETLink® PRO Compact permits conversion from TCP/IP to MPI/PPI/PROFIBUS with a maximum of 32 simultaneous links, and supports the communication to passive participants by activating the switchable Single-Master function. The integration of SCADA, HMI, and OPC applications can be realized via the widely used ISO on TCP (RFC1006) protocol, and NETLink® PRO Compact detects and forwards those requests automatically. The integrated web interface offers now even more parameterization, diagnostics and security features. Additional future functions can be updated independently by the user at any time. For this purpose, the ur diagnostic software SHTools is available for free.
Features
• RFC 1006 (ISO on TCP)
• CPU-to-CPU communication
• Power supply from the CPU or alternatively via external 24 V DC
• Support for all common S7 Engineering Tools
• Dynamic address assignment with DHCP
• Security functions for securing TCP/IP access
• Additional CPU write protection
• For S7-200*), S7-300*), S7-400*)
• Up to 16 TCP connections
• Up to 32 links on MPI/PROFIBUS
• Simple configuration via web interface
• Variable monitoring in the browser window
• Support of slave parameterization
• Electrical isolation to the MPI/PPI/PROFIBUS
• MPI/PPI/PROFIBUS from 9.6 kbps up to 12 Mbps
A great alternative to the now obsolete CP5511 (6GK1 551-1AA00) & CP5512 (6GK1 551-2AA00) and the very bulky CP5711 (6GK1 571-1AA00)!
---
Share this Product
---
More from this collection