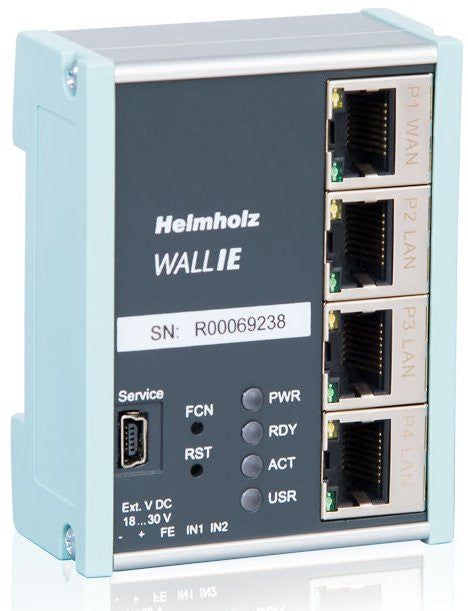 WALL IE, Industrial Ethernet Router, Bridge and Firewall 700-860-WAL01
---
Are you trying to easily connect your machine network to your corporate network?
Does your customer ask you to change IP addresses so your machine can coexist with their corporate network?
Are you trying to access your machine on the factory floor but don't want to modify the machine's IP addresses? 
The WALL IE Industrial Ethernet Router, Bridge & Firewall from Helmholz is the simplest and most cost effective way to accomplish this and more!
The WALL IE easily integrates your machine network into a higher-level production network.  
It allows Network Address Translation (NAT) to be easily configured exposing only the devices you decide should be exposed to the higher lever network all without having to change the IP addresses of the machine devices.
Features:
• Integration of machine networks into the higher-level plant network
• Access restriction t700-884hrough packet filters
• Bridge function for identical IP address ranges
• Industry-compatible design for installation on DIN rails
• NAT, NAPT and port forwarding
• 100 Mbit Industrial Ethernet
Download the Quick Start Guide
700-860-WAL01
---
Share this Product
---
More from this collection